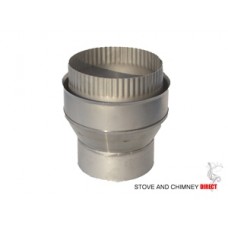 5 to 6 inch Increaser Adaptor
This is one of our fantastic flex adapter.
This adaptor will conect a 5 inche Flue pipe to a 6 inch Flexible Liner,
made of high quality stainless steel
This product is UK Manufactured
Processor
Description
Multifuel adaptor used to conect the stove pipe to the flexible liner
Contact us to enquire about bulk pricing on any of our products. We are happy to work with fitters and sweeps to help you better serve your customers.
Flex Adapter Increaser 5 to 6