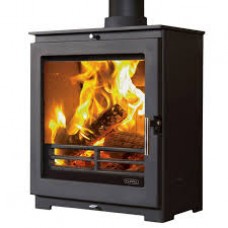 Portway Arundel XL Multi-fuel Stove

The Arundel XL Multifuel stove makes an instant impact with its striking extra-large viewing window, contemporary styling, and contrasting chrome handle. This hard-working steel bodied stove features a cast iron door and a log retaining bar that, although part functionality of the stove, enhances its overall aesthetics. Incorporating high-efficiency technology this large Class A+ appliance attains a Heat output of 5.0Kw, with a High Energy Efficiency value of 84%.
2022 EU Clean Stove Standard. Available as a Multifuel, or dedicated Woodburner.
Contact us to enquire about bulk pricing on any of our products. We are happy to work with fitters and sweeps to help you better serve your customers.
Portway Arundel XL Multi-fuel Stove