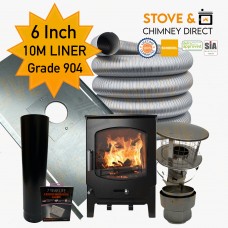 Whats Included?
1x Stove (ST-X8)
1x Liner
1x Pot Hanging Cowl
1x Ma Adapter
1x Vitreous Pipe 500mm
1x Register Plate
1x Carbon Monoxide Detector
Contact us to enquire about bulk pricing on any of our products. We are happy to work with fitters and sweeps to help you better serve your customers.
Saltfire ST-X8 Package Deal (6 Inch 10m Liner in 904)