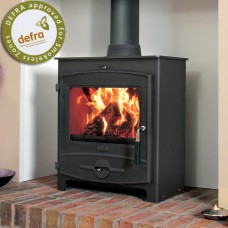 The Flavel No 2 CV07 is the largest model in the CV range. The CV07 has a heat output of 7kW and a efficient rating of 75%, making the CV07 ideal for medium to large sized rooms. The large viewing window is assisted by a strong airwash system that helps to keep the glass clear so the flickering flames can be viewed. This stove has the capability of burning for up to 10 hours on one single filling.
The Flavel No 2 CV07 Multifuel / Wood Burning Defra stove enables you to burn wood in UK Smoke Control Areas, It has been developed to meet DEFRA stringent approval.
Features
7kW
Defra Approved
Large Viewing Window
Airwash
Capable of Burning For Up To 10 Hours
Takes log lengths up to 16"
Large Ashpan
Simple Operating tools
Ultra Slim
Contact us to enquire about bulk pricing on any of our products. We are happy to work with fitters and sweeps to help you better serve your customers.
Flavel No. 2 Multi-Fuel Stove