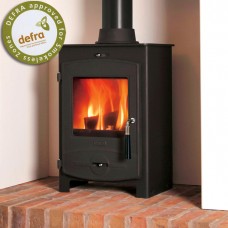 Details
The Flavel No 1 CV05 is a stylish contemporary stove with a curved door and a large viewing window which allows an excellent view of the relaxing flames. The Flavel No 1 CV05 has been manufactured with an ultra slim steel body so it can fit in to a variety of fireplace openings. This stove also features a large ash pan, strong airwash and has an output of 4.8kW.
The Flavel No 1 CV05 Multifuel / Wood Burning Defra stove enables you to burn wood in UK Smoke Control Areas, It has been developed to meet DEFRA stringent approval.
Features
Steel Construction
4.8kW
Large Viewing Window
Defra Approved
Ultra Slim Body
Airwash System
Takes Log lengths up to 12"
Up to 10 hours burn time
75% Efficient
Contact us to enquire about bulk pricing on any of our products. We are happy to work with fitters and sweeps to help you better serve your customers.
Flavel No. 1 Multi-fuel Stove