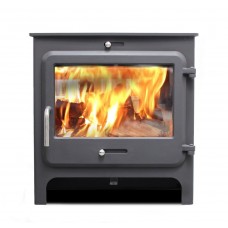 With a 5kW nominal heat output being adequate to provide ample warmth for the majority of standard sized rooms in the UK, Ekol have produced a stunning wood burning stove that gives you the maximum possible view of the mesmerising flames through its extra wide window yet retains a lower heat output than you would expect for its size as it has a shallower depth.
Based on the width and height of the Clarity 12, the new Ekol Clarity Vision benefits from easier insertion into shallower chimneys or less protrusion into the room when fitted free-standing against a wall. The wide aspect still allows for longer longs to be used on this dedicated woodburner or multi-fuel stove.
Being rated with a 5kW nominal heat output means that in most circumstances, additional ventilation in the room (air-vent) is not normally required yet the Clarity Vision has a total heat output range of 2kW to 7kW. Ultra Clean Burn provides superb performance ensuring you get the most heat from the fuel burnt whilst a powerful Airwash system ensures the panoramic glass viewing window stays clean.
Contact us to enquire about bulk pricing on any of our products. We are happy to work with fitters and sweeps to help you better serve your customers.
Ekol Clarity Vision 5 kw WOOD