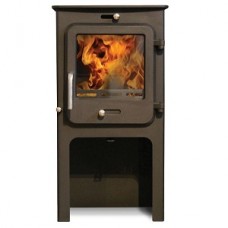 The Ekol Clarity High 5kW stove is one of a range of State-Of-the Art Hybrid stoves, this 'High body' model has the same 5kW output as the standard Clarity, it stands taller at 730mm and has space below the stove body that is perfect for storing logs.

The Ultra-Cleanburning Technology of Ekol stoves which achieves DEFRA approved status also makes for an easy to use, highly efficient stove with a unique flame pattern that is simply mesmerising.
The Ekol Clarity 5 kW stove has a large viewing window for maximum flame view and this is available with optional mirror glass developed to hide unsightly fire ash and tar marks when the stove is off and allows the fire to be viewed normally when in use.
Contact us to enquire about bulk pricing on any of our products. We are happy to work with fitters and sweeps to help you better serve your customers.
Ekol Clarity 5 High Multi-fuel Stove