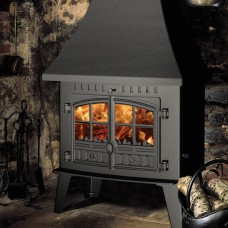 Details
The new Hunter Herald Inglenook multifuel / woodburning stove is large, low output stove. Under test conditions, the Hunter Herald Inglenook exceeds the new CE regulations on efficiency, yet only has a heat output of 7kW.
Introduced to fill a niche in the market, the Hunter Inglenook multifuel / woodburning stove solves the ultimate conundrum when faced with a large fireplace in a small room.
Features
Steel construction
Airwash system
Removable crosses on double doors
Ideal for large chimneys within a smaller room
Contact us to enquire about bulk pricing on any of our products. We are happy to work with fitters and sweeps to help you better serve your customers.
Hunter Low Output Inglenook Multi-Fuel Stove