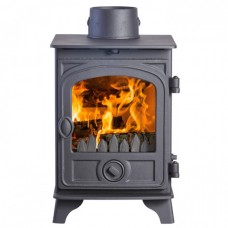 Details
Multi-fuel stove
Combine the famous Hunter grate system with an effective airwash put them in a multifuel stove that will fit into a small fireplace, and you have an efficient, sophisticated stove for the modest sized room. Add to that a very reasonable price tag and its easy to see why the Hunter Hawk 3 Multi-Fuel / Wood-Burning stove has become a best seller.
Features
Adjustable airwash for cleaner glass
Cleanburn technology
Overnight burning capability
Wipe-free glass
Contact us to enquire about bulk pricing on any of our products. We are happy to work with fitters and sweeps to help you better serve your customers.
Hunter Hawk 3 Multi Fuel Stove