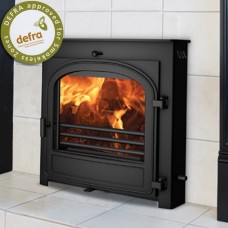 The new Telford 8 Inset has retained its traditional styling but in terms of performance, it's in a whole new dimension. Rigorous testing has ensured that the Telford 8 provides optimum efficiency burning wood; the Cleanburn technology internal air flow burns wood evenly and economically.
The Telford Inset 8 is designed to fit without the need for a chair brick.
Features
Overnight burning facility
UK Made
Airwash system for cleaner glass
Contact us to enquire about bulk pricing on any of our products. We are happy to work with fitters and sweeps to help you better serve your customers.
Hunter Telford 8 Inset Multi Fuel