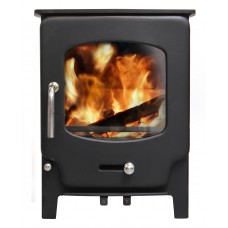 The Saltfire ST-X4 - new addition to our range of ultra-clean-burning stoves. This model has been in development for some time in our labs and is now on sale.

The smallest of the new ST-X models - the ST-X4 is rated at4.1kW output, and approx 80% efficiency.

Constructed from a precision-welded thick steel body with cast iron door and thermo-refractory fire brick inner linings.

Many times cleaner than the required standard for "DEFRA" exemption, it can legally be used anywhere in the UK including the strictest of smoke control zones.

Designed with simple, easy to operate user friendly controls.

Designed with a large viewing window for amazing views of the fire. The flame pattern with the advanced "after-burner" system is quite unique.

The ST-X4 is a multi-fuel stove able to efficiently burn wood logs or smokeless coal - the coal ashes will fall through the grate and into the ash can which easily lifts out when full.

Contact us to enquire about bulk pricing on any of our products. We are happy to work with fitters and sweeps to help you better serve your customers.
Saltfire ST-X4 Multi-Fuel DEFRA Approved