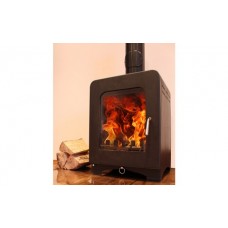 ST2 Multi Fuel Stove    5KW    
ST2 Stove is a multi-fuel stove DEFRA approved
The Results of thousands of hours of development the ST2 is one of the most efficient and clean burning stoves available today
Many times cleaner than the required standard for DEFRA exemption it can legally be used anywhere in the UK including the strictest of smoke control zones.
Designed with simple easy to use controls
Finished in Black
Air wash glass system
5 inch top outlet
Tested to DEFRA and CE / BS standards
5 KW Heat output
Height 540 mm
Width 414 mm
Depth 350 mm
weight 46 KG
Flue size 125mm
Note this stove only has a top outlet and will require pipe with a cleaning door
Contact us to enquire about bulk pricing on any of our products. We are happy to work with fitters and sweeps to help you better serve your customers.
ST2 Multi-Fuel Stove DEFRA Approved