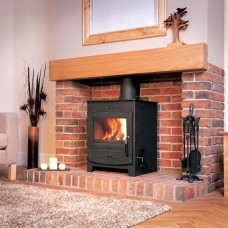 Details
The Flavel CV15 has an efficiency rating of 80.5%, making this boiler stove one of the most efficient on the market. This Boiler stove can easily be installed with an existing heating system and offers a heat output of 5kW to the room and up to 9.7kW to water. The Flavel CV15 has a double cased body to keep the outer body of the stove cool and to stop the room over heating when the full central heating system is required. The stove also works with time clocks and automatic room stats for full thermostatic control.
Features
5kW to the room
Up to 9.7kW to water
80.5% efficiency rating
Large viewing window
Burns for up to 12 Hours
Double cased body
Access to sweep chimney through the stove
Works with time clocks for gull thermostatic control
Burns a range of fuels, eg coal , wood, peat, coke with no need to change the grate
Contact us to enquire about bulk pricing on any of our products. We are happy to work with fitters and sweeps to help you better serve your customers.
Flavel Central Heating Stove